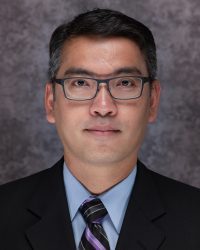 Chalengpoj "Charlie" Sthapanachai, M.D.
Click here to see Dr. Sthapanachai's complete curriculum vitae.
Dr. Sthapanachai is also known as "Dr. Charlie", the name given to him by the late world renowned gastrointestinal pathologist and professor in pathology, Dr. Rodger C. Haggitt.
Dr. Charlie joined Clin-Path Associates, PLC., in 2009. Dr. Charlie graduated medicine from the Faculty of Medicine Siriraj Hospital, Mahidol University, the first and prestigious medical school in Thailand. He subsequently received pathology residency training and Surgical as well as Hematopathology fellowship training at the University of Washington Medical Center in Seattle, WA. During the fellowship program, he also served as a chief resident. Dr. Charlie is board-certified in Anatomic and Clinical Pathology and Hematopathology.
He is a member of many professional organizations, including College of American Pathologists (CAP), American Society for Clinical Pathology (ASCP), United States and Canadian Academy of Pathology (USCAP), Society of Hematopathology, and Arizona Society of Pathologists.
Dr. Charlie briefly practiced in Palmer, Alaska and eventually moved down to the valley of the sun and has been a part of our Clin-Path family.
In his spare time, Dr. Charlie enjoys photography, movies, traveling and listening to the music.
"I don't want you to be only a doctor, but I also want you to be a man. True success is not in the learning, but in its application to the benefit of mankind."– His Royal Highness Prince Mahidol of Songkla